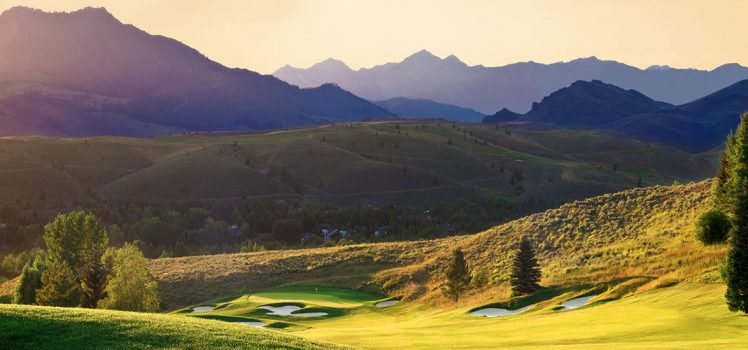 30 Apr

The Golfer's Guide to Sun Valley

Hiking, biking, rafting, canoeing, fishing, golfing.

Sun Valley has it all, including scenic and verdant golf courses that let you take your vacation relaxation to the next level, whether it's 9 holes or 18 that you're after.

Being such a hotspot for golfers, we've designed a comprehensive package with the golfing traveler in mind. Learn more about our Birdie in the Valley package here.

Trail Creek

The first course in our spotlight is Trail Creek. A beautiful course full of sunny mountain vistas, Trail Creek spans a sweeping 6,968 yards, and was designed by legendary course designer Robert Trent Jones, Jr.

Jones is known for designing and developing over 250 golf courses around the world, and is the son of one of the cheap NFL jerseys famous golf course designers of Sweet all time, Robert Trent Jones, Sr. Of Jones, Sr., it was once said that "the sun never sets on a Robert Trent Jones golf course." That goes double in a place like Sun Valley.

White Clouds

It's called White Clouds for a reason: the elevation is so high, it feels like you're playing amongst the Hill white clouds in and the sky.

At White Clouds, you can get a 360-degree of the surrounding Wood River Valley, including a view of just about every landmark in the area, from Bald Mountain, to Angel's Perch, to Devil's Bedstead, to the grave of Ernest Hemingway.

White Clouds is a 9-hole course, though, so be sure to savor each view a little extra as you play.

Elkhorn

Remember how we said that Robert Trent Jones Jr. was a rather prolific golf course designer?

We weren't joking.

He also designed a second golf course in Sun Valley called Elkhorn.

Elkhorn was extensively renovated in 2004, and wholesale NBA jerseys now features a revitalized golf experience that boasts 7,214 yards distance from the tips in total. The back Hacked nine are also notoriously challenging, and feature a water hazard on all but one hole.

Make no mistake: Elkhorn is where you come in Sun – Valley to truly put your golf game to the test. It's big and wholesale nfl jerseys full of traps, but that also makes it cheap NBA jerseys that much more год satisfying when you finish under its par 72.