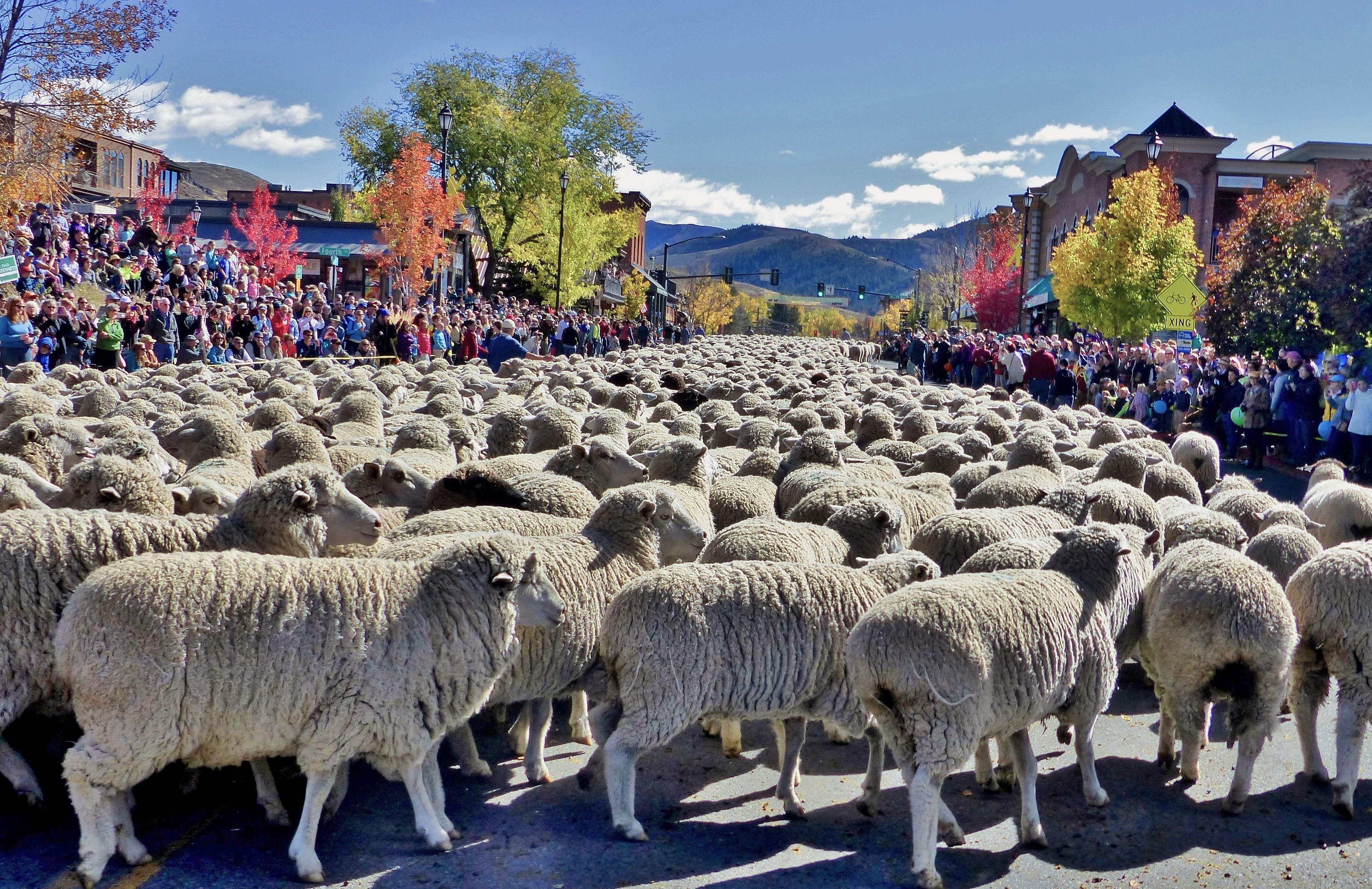 01 Oct

Fall in Love with Sun Valley

Photography credit: Carol Waller.

The dog days of summer may be over, but that doesn't mean the fun and adventure have ended.

With a new season, comes new possibilities and more reasons to fall in love with Sun Valley.

There is a reason why fall is called Sun Valley's secret season.

The leaves are changing colors, pumpkin spice everything is back, and the sheep are coming.

Fall is here!

And Sun Valley offers endless fall activities.

From hiking and biking to unique festivals and events like the Trailing of the Sheep and the Sun Valley Jazz Festival, there is no shortage of things to do.

This year, the Trailing of the Sheep Festival takes place Oct. 9-13.

Not only is it a famous festival in Sun Valley where thousands of sheep run down Main Street, but it includes so much more.

The Trailing of the Sheep began in 1996 as a celebration of the woolly creatures and the culture surrounding them, including their annual migration to winter pastures through the valley.

With the help of the Trailing of the Sheep Festival, we've put together a list of events you won't want to miss:

First, for the foodie in you, plan to enjoy the many American Lamb culinary offerings:
For the Love of Lamb Tastings
Farm to Table Dinners
Cooking with Lamb
Lamb Fest at the Folklife Fair
Happy Trails Closing Party
Second, music and dance fill the weekend – listen to and watch the many performers celebrating the history and culture of sheep ranching.
Next, check out the Folklife Fair in Roberta McKercher Park in Hailey, Idaho.
This popular fair provides demonstrations of sheep shearing, displays of sheep wagons, and crafts for children.
In addition, the fair also includes lamb dishes prepared by top chefs and local restaurants all day Saturday, so stop by for delicious food.
Other attractions include the Make it With Wool contest and vendors selling their unique crafts.
After that, you'll want to head to Quigley Canyon Fields in Hailey to view the Championship Sheepdog Trails.
They bring nearly 70 of the finest sheepdogs to the valley to compete.
It is a must-see for all animal lovers who have wondered who is in charge of the sheep and how the dogs are trained to respond to their handlers.
In other words, these amazingly talented animals provide amazing photo opportunities.
And finally, the grand finale – the Big Sheep Parade in downtown Ketchum.
Join an authentic trailing of the sheep as part of their annual migration to winter pastures.
On Sunday at Noon, 1,500 sheep head south down Ketchum's Main Street with sheep ranching family members and herders.
The parade includes sheep wagons, musicians and local groups.
Above all, you won't want to miss this event!
If swaying to the soulful sounds of jazz music is your idea of a great time, then the Sun Valley Jazz and Music Festival is for you.
This year the Jazz Festival is Oct. 16-20 and they are celebrating their 30th anniversary.
Forty bands will perform over the five-day event, therefore you will want to grab your tickets and experience their passion, "…telling the story of "American" music…"
Whether you're you're enjoying the sheep or listening to music, Knob Hill Inn is the place to stay.
For instance, after a fun, fall adventure, you can come back to your cozy guestroom to relax and rest.
We offer a variety of seasonal packages and specials for guests to enjoy.
Learn more about our packages and specials here.
Book a stay today and come experience your own fall adventure.
ICome fall in love with Sun Valley!