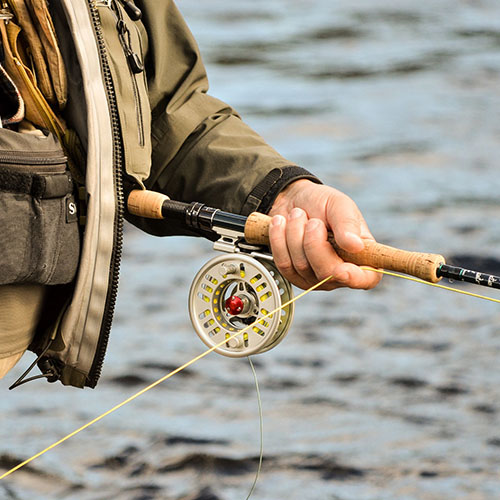 06 Aug

August in Sun Valley

So what do you do in August in Sun Valley?

The possibilities are limitless and can include fish stories!

Sun Valley is considered a divine destination for fly-fishing as it is home to wild rivers, alpine lakes, Chinook salmon, trophy trout, and bass.

Anglers lured to Idaho, may never want to leave.

The Sun Valley area offers an incredible diversity of fly fishing opportunities for everyone from the casual novice to the ambitious expert.

The best time to fish Sun Valley is mid-August to early September.

And two of our favorite locations include:
Warm Springs Creek
Big Wood River
Want to know one really cool and interesting fact about our fishing waters?
Idaho state law allows fisherman wade as far upstream or downstream as you like, if you've entered the river from an appropriate access point.
This, however, is rarely a consideration, because such an enormous amount of our fisheries lie in public lands.
And Knob Hill Inn is the perfect home base for your Sun Valley escape, where guests are welcomed like family by a team that takes pride in the region.
Whether you've been wanting to give fly fishing a first try or you're an experienced angler looking to discover what Sun Valley has to offer, Knob Hill Inn has you covered.
Our Fly Fishing Adventure special is an amazing way to experience Sun Valley fishing.
First check in and take some time to settle into your accommodations.
If you arrive early, you may relax at our pool, grab a workout at the Woodriver YMCA, or stroll around downtown Ketchum.
Then, start the day by fueling up with our Signature Breakfast before heading out for a half day of some of the best fly fishing on the planet.
Your expert fishing guide will provide all the gear you need, including flies.
In addition, we'll send along two metal Knob Hill Inn water bottles to keep you hydrated from first to last cast.
Our package includes:
One-night stay with Signature Breakfast
Half-day guided fly fishing tour for up to two, including gear and transportation
Two keepsake reusable water bottles
Finally, at the end of the day, dine at the Grill at Knob Hill.
The Grill features a casual and comfortable environment with distinctly Northwest cuisine.
Make your fly fishing reservations with us today!
Once you're hooked, no pun intended, you can find additional fishing apparel and gear at Silver Creek Outfitters.
You can also read more about all of our local fishing holes.
If fly fishing isn't up your alley, might we suggest spending time enjoying the music in Sun Valley.
Every summer, the City of Ketchum offers a free concert series.
The local's favorite concert series, "Ketch'em Alive," is every Tuesday evening from 7 until 9 pm at the Forrest Service Park in downtown Ketchum.
Nationally touring bands will play rock, reggae, world beat, Americana, folk, etc.
With the music and dancing, it is always a fun-filled community party.
Every Sunday, "Jazz in the Park" will take place at the Ketchum Rotary Park from 6-8pm.
Picnics are encouraged!
Shows run through August and once again, Knob Hill Inn is here to help kick start the party.
We have everything you'll need to make the most of the events.
Our Summer Concert Series package includes:
One-night stay
Lawn chairs
Picnic basket with sandwiches, drinks, chips, and dessert
Finally, the Sun Valley Music Festival also offers extraordinary, admission-free performances, a spectacular setting and truly something for everyone.
Located at the Sun Valley Pavilion, these summer concerts begin at 6:30pm and last about an hour.
No matter your preference, we welcome you to our home in Sun Valley!